Back to Home
---
Shizuoka Prefecture Police Bell222
@ Visitor Center of Shizuoka Airport
Bell 222 is one of the "Light Twin" helicopters in the latter half of 1970s.
Twin turbine engine for flight safety on the offshore, about 10 passengers, retractable landing gear for high speed and long range.
Many 222s were used by police in Japan. JA9552 was used by Shizuoka Prefecture Police, 3992 sorties, 6646 flight hours and rescue 50 persons lives.
Shizuoka's 222 is now displayed in Visitor Center of Shizuoka Airport (presently under construction).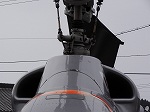 Cockpit is also opening.
I'm interested in torque meter. This includes not only engine torques but also main rotor torque sensed by slim torque tube inside rotor mast.
This is Bell's usual equipment, 412 also equips and 427 has space provision.
Collective pitch lever is throttle type same as 214ST. However copilot's lever is simple.
Design of pedal is so simple.
Next, main rotor.
Blade is simple rectangle shape.
All bearings of 222's rotor hub are elastmeric type, this design improves the maintainability.
There is a weight on this place. Maybe for reducing vibration, I've watched this first time.
Tail rotor.
Blade and hub yoke is connected by two blade retension bearings.
14/08/2004.
---
Back to Home